Urgent Care at Pomona Valley Health Centers
---
Chino Hills Crossroads
Address
3110 Chino Avenue
Suite 150-B
Chino Hills, CA 91709
909-630-7868
Claremont
Address
1601 Monte Vista Avenue
Suite 190
Claremont, CA 91711
909-865-9977
La Verne
Address
2333 Foothill Boulevard
Suite C
La Verne, CA 91750
909-392-6511
---
PVHC Urgent Care hours are:
8:00 a.m. - 6:00 p.m. Monday through Friday
9:00 a.m. - 5:00 p.m. weekends and most holidays
---
When you or your loved one suffers an unexpected illness or injury, getting the care you need should not be stressful. You deserve easy access to prompt, high-quality treatment. That's why PVHC Urgent Care is here for you with extended hours 365 days a year at all of our locations.
You can now reserve your spot in our Urgent Care!
Our new digital registration system allows patients to conveniently register for their Urgent Care visits from the privacy of their own devices.
---
Urgent Care Telemedicine Now Available
Telemedicine allows you to be seen by one of our Urgent Care providers from the comfort, convenience and—most of all—safety of your home. All you need is a computer, laptop or smart device, such as a smartphone or tablet. To see if you qualify for a Telemedicine visit, please call any of our Urgent Care centers.
PVHC Crossroads: 909-630-7868
PVHC Claremont: 909-865-9977
PVHC La Verne: 909-392-6511
If you are experiencing emergency warning signs of COVID-19, such as trouble breathing, chest pain or pale,gray or blue-colored skin, lips or nail beds, we urge you to call 9-1-1 or get to your nearest Emergency Department immediately.
---
Consult this infographic to determine whether your medical condition calls for a visit to the emergency room or PVHC urgent care. If you still have questions, call us at (909) 630-7829.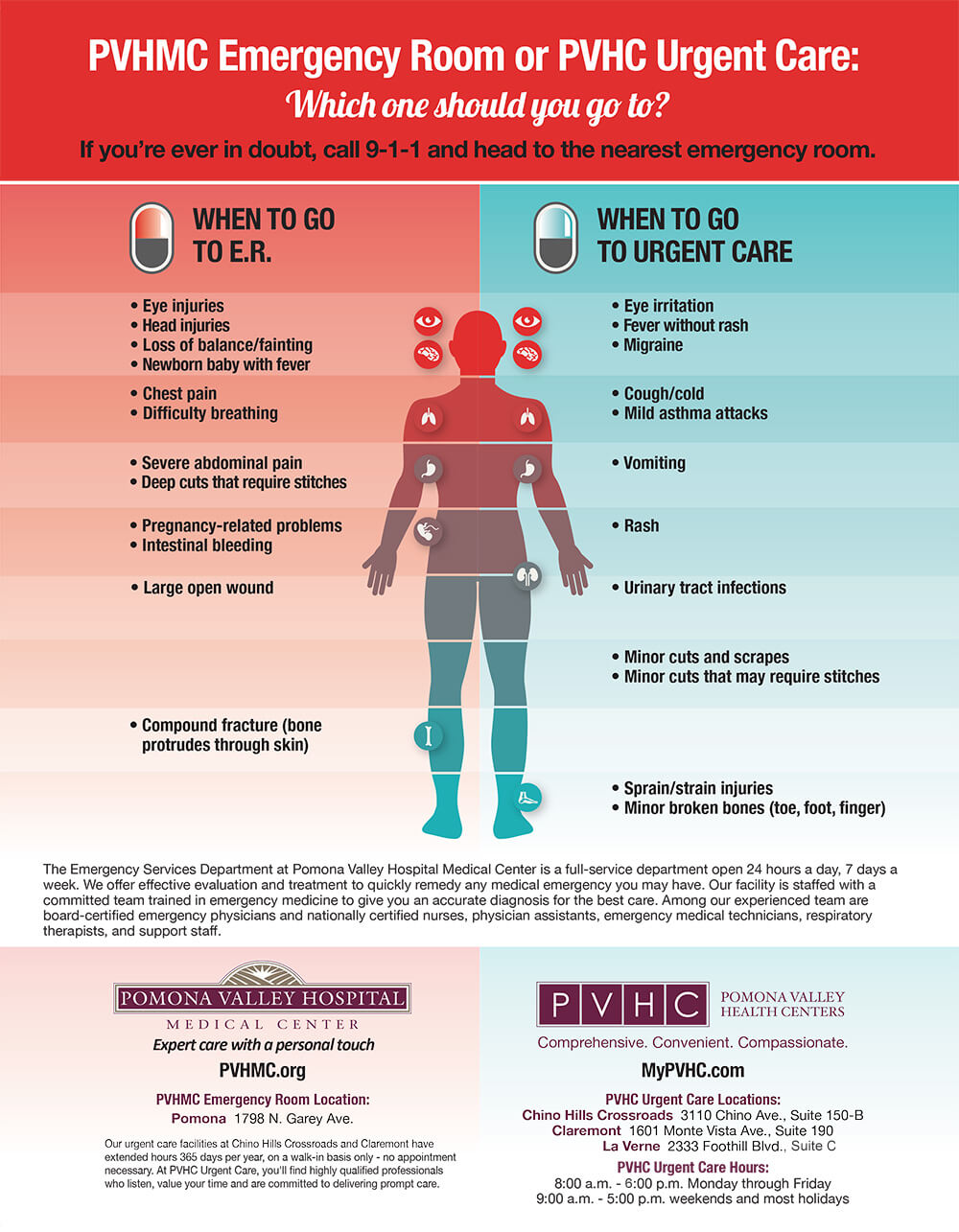 ---
Urgent care is on a walk in basis only, so we are unable to determine the wait time.
At PVHC Urgent Care, you'll find highly qualified doctors, physician assistants, nurses and staff who listen, value your time and are committed to delivering prompt care. They treat a wide range of illnesses and injuries, and also offer expert care for Workers' Comp cases. Our staff works with most major HMOs and private insurance plans, and will gladly contact your primary care doctor about your medical treatment.
Common illnesses and injuries treated at PVHC Urgent Care include:
Asthma
Colds and flu
Children's illnesses
Infections
Burns
Rashes
Allergies
Sprains
Fractures
Sports injuries
Bites and stings
Migraine headaches
And more
After-hours care is referred to Pomona Valley Hospital's emergency room walk-in clinic, Secure Care, located at Pomona Valley Hospital Medical Center's Emergency Department at 1798 N. Garey Avenue Pomona, California. (909) 865-9500.