Medically reviewed by Saman Aboudi MD, Medical Director, PVHC Urgent Care & Occupational Medicine, Premier Family Medicine Associates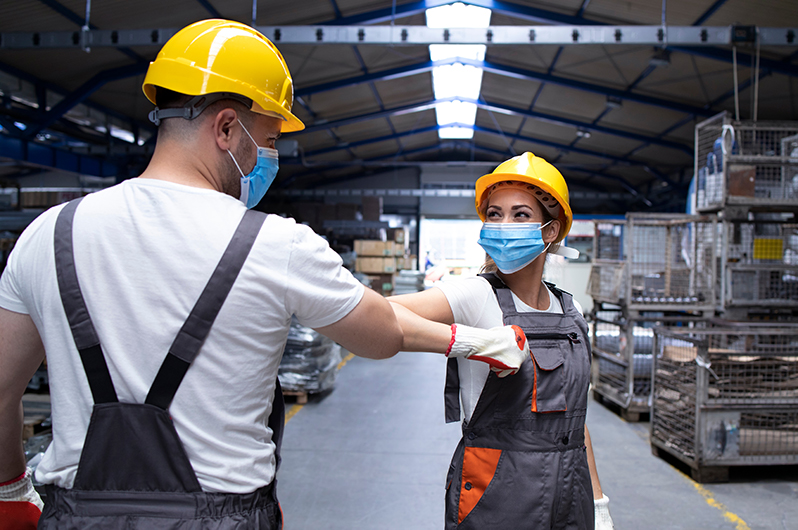 According to the Bureau of Labor and Statistics, private industry employers reported 2.8 million nonfatal workplace injuries and accidents in 2019. On average, the cost per medically consulted injury, which means the employee needed medical attention, was $42,000. This includes estimates of lost wages, medical expenses, administrative expenses and other employer costs.
As you can see, workplace injuries and accidents can not only negatively impact productivity and morale, but they can also be costly and time-consuming for businesses.
Ten tips for Preventing Workplace Injuries
The best way to avoid these costs is to avoid injuries altogether. Here are 10 ways you can reduce your risk:
Offer accident prevention and wellness programs
Choose a program that covers all levels of employee safety and health with the encouragement to report hazardous situations, practices or behavior.
Require mandatory pre-employment physicals
This is especially important if you are hiring for a position that will be required to operate machinery and/or lift heavy objects regularly. Screening applicants is a safeguard for businesses and helps ensure employees are placed in appropriate positions that match their physical capabilities.
Provide ongoing education for employees and management staff
Safety standards need to be cultivated across all levels of your business. Make it a priority to train employees about the importance of following safety measures often. Supplemental training in body mechanics can further reduce the risk of strain injuries and help keep your employees safe while lifting and moving.
Issue adequate safety equipment to all employees
Personal protection equipment is essential for on-the-job safety and should be enforced at hiring, during meetings and with spontaneous monitoring. It's important for employees to know how to wear and use the equipment properly, so take time to demonstrate how to properly use things like goggles, face protection, gloves, hard hats, earplugs and safety shoes.
Hire enough employees
Overworked employees may suffer from exhaustion and cut corners to meet or exceed output. Hiring part-time or seasonal staff can help lower your risk of workplace injury.
Know your businesses vulnerabilities
Each business is unique, so it's important to understand your specific safety concerns. If you notice similar injuries being reported, then it's time to develop strategies to prevent these issues from continuing.
Do not take shortcuts
Train employees to understand that delivering quality products or services is your top priority, and quantity—though important—is second. Employees who feel immense pressure to meet daily outputs are more likely to skip steps, which can put their safety at risk. Make sure all instructions are clear and organized to avoid preventable injuries.
Inspect and maintain all company vehicles
According to recent Occupational Safety and Health Act findings, workplace driving accidents cost employers approximately $60 billion a year. Lower your risk with monthly inspections of all vehicles and repair issues as soon as possible.
Reward safe employees
Show your employees just how valuable maintaining safety standards is by rewarding those who consistently abide by the standards and/or stay injury-free for a specified amount of time.
Stay organized
Poor housekeeping can cause serious health and safety hazards in the workplace. Hard hat areas should be well marked with adequate foot path markings, be free of debris or other materials and have plenty of stations available for cleaning up spills, etc.
If an employee is hurt on the job, contact Pomona Valley Health Centers. We are proud to deliver specialized treatment and disability management for injured workers through our occupational medicine program. For questions and inquiries, please call 909-378-8865 and speak with one of our specialists.